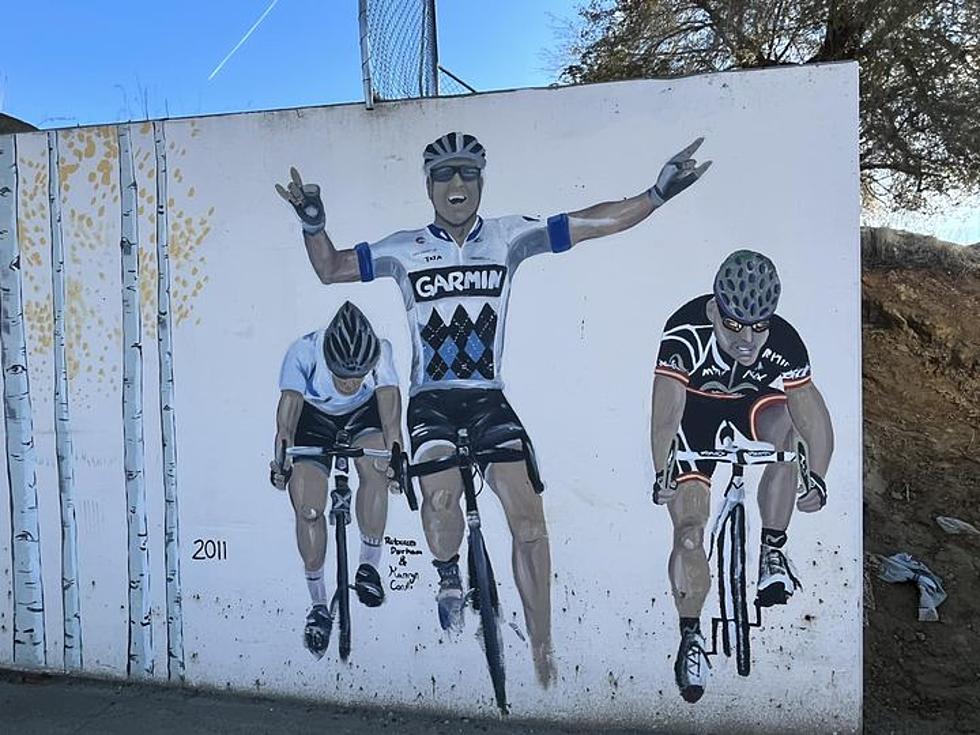 Wenatchee Alum Tyler Farrar Enjoys Life After Pro-Cycling
Tyler Farrar Wenatchee Art Mural (corner of 5th & Piere Street) CREDIT: Connor
I'll never forget the morning of the 4th of July in 2011.
My son was 3 ½ months old and we are about to take him down to a neighborhood 4th of July mini-parade. My phone starts to vibrate with text messages with the exciting news that Wenatchee's Tyler Farrar has just won a sprint stage - Stage 3 in the Tour de France! - on the 4th of July!
No American sprinter has won a sprint stage at the Tour de France since. Warning: Video is NSFW - Bad Language
Flash forward to 2017 - Tyler Farrar retires from professional cycling.
One day he was in Belgium and the next he was gone with a one-way plane ticket - for home in the state of Washington.
Flash forward to today - Tyler Farrar works 48-hour shifts for the Kirkland Fire Department.  Two days on, two days off.
Becoming a firefighter had always been at the back of Tyler's mind - even when he was a senior at Wenatchee High School, winning the downtown Wenatchee criterium, on his prom night. 
A career in professional cycling was next - his dream to serve the public as a firefighter was put on hold.
"Being a firefighter was always something that sat in the back of my head when I was racing. I wanted to do it when I was a kid but I was having a lot of success racing bikes, but firefighting was always a job that I wanted to pursue once I knew that cycling was over for me. When I stopped cycling I just went straight into trying to be a firefighter and I gave it the same level of dedication."  -Tyler Farrar via Cyclingnews
After Tyler Farrar retired from cycling, he worked hard studying to become an EMT - an Emergency Medical Technician. He then completed his training with a fire academy. Then in 2018, he applied to several fire departments. 
Tyler was quickly hired by the Kirkland Fire Department. 
"There are a lot of similarities, culturally," he says. "That's why I like it. There's a team atmosphere...That's similar to being on a team bus but the job is different. We're an all-hazards fire department so in addition to firefighting we're who shows up if you're having a medical emergency. Every shift I work is dynamic, and I don't know what I'm going to face. I'm still learning and every day is different but it's been a really good fit for me." -Tyler Farrar via Cyclingnews
Even when he was winning stages in all three World Tour races and beating household names in Europe - Tyler always appeared humble and modest.
In 2019, I met him at Arlberg Sports at a Tour de Bloom rider check-in. Tyler had been retired for a couple of years - still stopping by to support Tour de Bloom, the biggest cycling race on the Wenatchee calendar.
I'll never forget how down-to-earth he was. A stage winner in all three world tours? You'd never know when talking with him.
While much of Farrar's life has changed in the last few years he and his long-time partner are busy raising their 5-year-old son. The dedication he put into cycling - now is focused on his new profession of serving the community.
INFO: Cycling News, NBC Sports
48 of the Best Musicians to Have Hailed From Washington State
We all know about the influential grunge scene of Seattle that brought the end of hair metal at the dawn of the 1990s. But did you know even more artists have called Washington home? A lot of these artists come from Seattle but some come from Spokane and even the Tri-Cities.
Gallery Credit: Pete Christensen