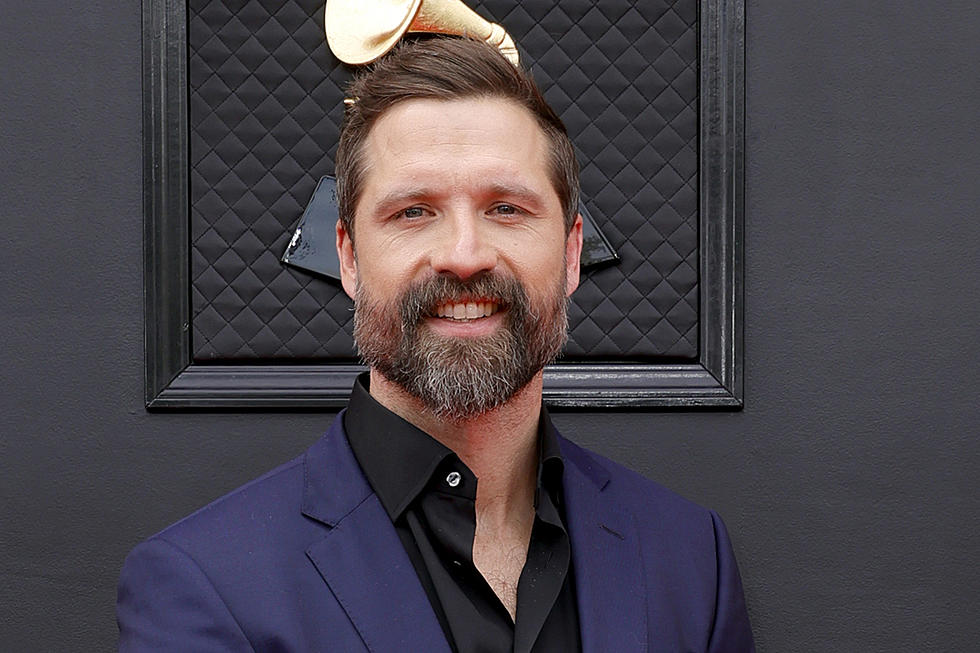 Walker Hayes Plays With Fire During Delightful New Single, 'Good With Me' [Listen]
Frazer Harrison, Getty Images
Walker Hayes sure loves a third rail. No topic is off limits during the singer's charming new single, "Good With Me." Country music's Dr. Seuss sings about everything you're not supposed to sing about, and ultimately accomplishes his one true goal.
If there is a singer who's less divisive than Hayes, country fans haven't met him. Sure, some fans take issue with his pop-friendly sound (he addresses that with a wink at the end of the first verse) but few can argue that his clever word-play splits an audience. Somehow, the lyric "Rob thinks Bud Light makes you gay / Shane thinks Rob is cute," passes before fists can clench.
Let's list the hot topics Hayes breezes over: Bud Light, COVID-19 conspiracies, "real" country music, immigration, Transgender rights and the legalization of marijuana. Hayes bats each around like a kitten playing with a toy mouse. If you think "Good With Me" undermines an issue close to your heart then just wait a few beats. You'll find another line you agree with soon enough.
The point Hayes makes is that as humans, we can choose to focus on our differences or similarities, and it is a choice. With a catalog of cheeky hits and a history of wearing his scars with a smile, the "Fancy Like" man is perhaps the only one who can get away with this. Although, maybe not?
"Label thinks I'm gonna get canceled / Soon as I put out this song," he sings cheerfully. That would be sad. Cancelling a man for not having a hot take is the equivalent of chopping down the last Truffula tree.
Related: Top 40 Country Songs for August 2023, Power Rankings
Did You Know?: "Good With Me" was written by Hayes, with Shane McAnally and Scott Stepakoff.
Listen to Walker Hayes, "Good With Me":
Walker Hayes, "Good With Me" Lyrics:
Well Pam thinks Jesus is on his way / Doug thinks she's a hoot / Rob thinks Bud Light makes you gay / Shane thinks Rob is cute / Coach thinks college athletes are making too much bank / Kim thinks Covid was a Chinese prank / Buddy thinks everything I sing sucks / Cause it don't sound like Hank.
Chorus:
Well baby I think beer goes good with a lake / And a lake goes good with a dock / And a dock goes good with a fish on a hook / And a hook goes good on a country song / Song goes good with a smile / Smile goes good with a kiss / Kiss goes good with you / And baby you go good with me.
Well old cousin Carl thinks we need to close the border / Carlos disagrees / Son thinks trans is short for Transformers / And daughter thinks money grows on trees / Cindy thinks the government's tapping her phone / Willie thinks we oughta just get all get stoned / Label thinks I'm gonna get canceled / Soon as I put out this song / Hope I don't but …
Repeat Chorus
So good with me / You're my best friend / Yeah, that's my two cents / Baby I think beer …
Repeat Chorus
PICTURES: See Inside Walker Hayes' Luxurious Nashville Home
Walker Hayes has found a buyer for the luxurious home where he and his family launched the viral "Fancy Like" video that revitalized his career, and pictures of the 4-bedroom, 3.5-bathroom, 3,057-square-foot residence show an upscale, but very cozy home that's perfect for a family.