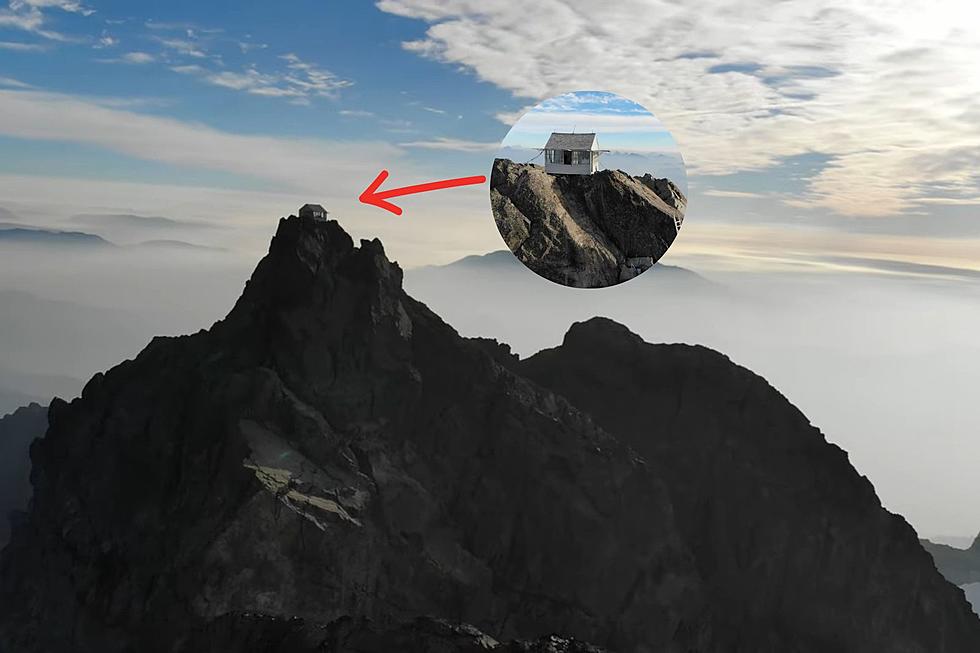 Would You Sleep Up Here? Stay in Washington's Highest Cabin
YouTube Screenshot: Frank Johnson-Canva
Washington's most secluded cabin is located just under 7,000 feet above sea level on the south peak of Three Fingers Mountain in the Mount Baker-Snoqualmie National Forest. Constructed in the early 1930s, the 14' x 14' cabin is one of Washington's oldest lookout structures and was used to spot and report forest fires from 1933 and 1942.
How was Three Fingers Lookout Cabin built?
The first question most people have is how the heck did they get materials to such a remote location to build the cabin in the 1930s? Well, it took about three years from start to finish and started with dynamite. They had to blast 15 feet off the top of the peak to create a flat area suitable for construction. The materials were transported via animal packs as far as possible and from there (the last 600 feet) they had to use a special system of ropes and ladders to get them to the site.
To keep the structure from blowing off the cliff they bolted the cabin floor to the solid rock pad below and used cables attached to the rock formations to further secure the peak and protect it from the high winds. The cabin has a 360-degree view when the windows are propped open. In 2015 the roof was replaced and they used a helicopter to deliver the materials – something they didn't have in the early 1930s.
How do I get to Three Fingers Cabin and can I stay the night?
According to the US Forest Service, the trip to the site is "difficult and strenuous" and the final half-mile portion is only for experienced climbers. It requires you to traverse a steep section and climb a sketchy-looking set of vertical ladders with an assist from a sketchy-looking rope. If you have the experience and desire to make the trip, get all the information and requirements through the US Forest Service website. Check out the YouTube video from Frank Johnson below. What an amazing experience.
This Hike in the Columbia River Gorge is a Must Experience
The Labyrinth to Coyote Wall Loop. It runs 6.7 miles with an elevation gain of 1,489 feet. It features a waterfall, lava tube, rock formations, and incredible views. It's heavily trafficked with hikers and mountain bikers on weekends and dogs are welcome on a leash. Beware, you'll need good hiking shoes as a good portion of the trail is very rocky. It's open all year round, but the experts recommend day use from March to November.
Check Out This Breaktaking Romantic Hood Canal Vacation Rental
This Hood Canal hideaway has been recently remodeled and sits in the woods perched on the shores of Hood Canal near Seabeck, Washington.