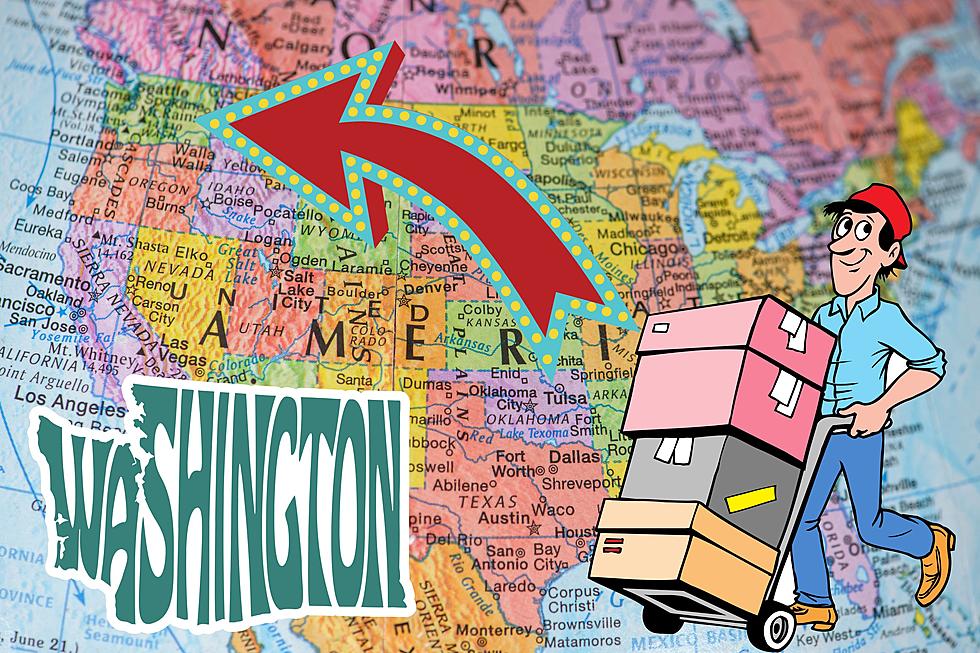 Don't Blame Cali, These 3 States Residents Are Moving To Washington State More
canva
Does California Really Have The Most People Moving To Washington State?
Washington State is a place like no other; it has everything from gorgeous wild areas full of nature to bustling cities with plenty of culture and modern amenities and it's a popular destination to be moving to.

Californians get the bad rap from us Washingtonians as we believe they sell their homes for big money and then drive the housing market in Washington up because they can afford to spend more on real estate.
No worries, this article isn't about bashing California but actually about the fact that three other states send more people our way than California. 
Forbes.com has done the work for us and you'll be surprised to find that while Washington is a popular state to move to, Florida and California get more people moving into their states than Washington.
Here are the details from the survey:
They found that Florida is tied for the most popular state to move to as it is the first choice for movers from seven different states.
Texas is tied in first place since it ranks as the most common destination for movers from seven more states.
The Lone Star State is the favorite for movers from Arkansas, California, Colorado, Louisiana, Utah, Oklahoma, and New Mexico, with the total number of movers from across the U.S. adding up to 559,661. 
Coming in second place is California, ranking as the most popular moving destination for residents of six other states–Alaska, Arizona, Hawaii, Nevada, Texas, and Washington. The total number of people who moved to California adds up to 480,204.
In total 31,882 people moved from Washington, the most of any state.
We blame California but in reality, we send more people to California than they send our way.
So What Are The Three States People Seem To Move From To Washington State?
Idaho
Montana
Oregon
Washington is most popular for movers from Idaho, Oregon, and Montana, with the total number of movers adding up to 231,956.
Commenting on the findings, a spokesperson for Forbes Advisor said: "Texas and Florida are great examples of how states with a lower cost of living were priority relocation destinations during a time when people were not only faced with Covid-19 but also inflation."
As you can see, Washington State remains a very popular destination but it's our fellow Oregonians, Montanans, and Idahoans that are coming and not just Californians.
You can read more details on the study from Forbes.com here
Can You Name the 7 Biggest Apple Growers in Washington State?
Here are seven of the biggest apple growers in Washington State, see if you recognize of few of these growers for yourself.
10 Great Places To Grab A Breakfast Burrito In Tri-Cities Washington
Check out 10 places in the Tri-Cities that have great breakfast burritos.