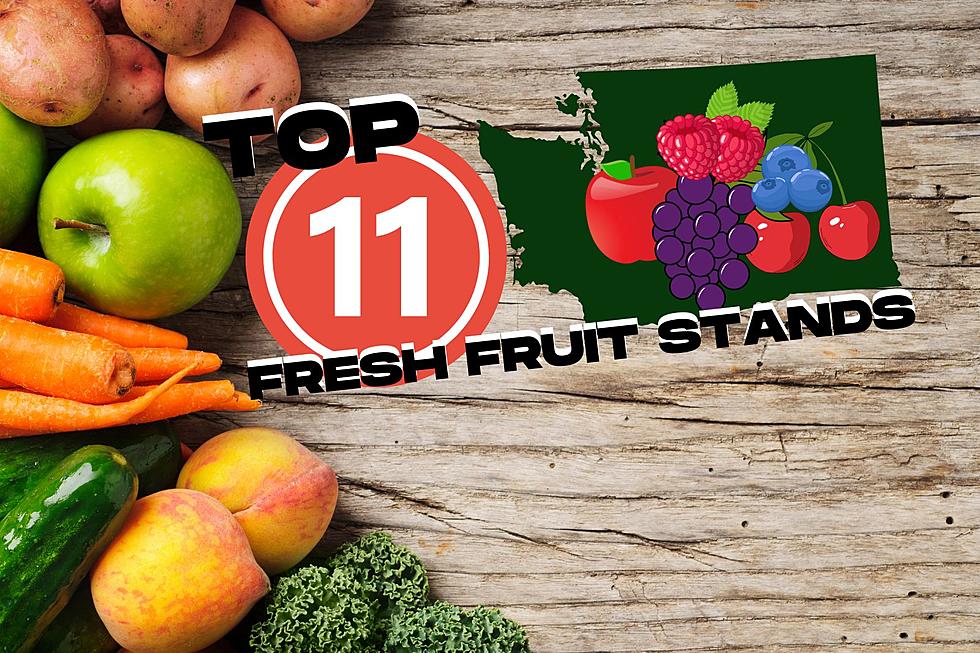 Fruity Finds: The Top 11 Fresh Picks for Fruit in Washington State
Canva-Getty
Where Are the Best Places for Fresh Fruit in Washington State?
Now that it is finally spring in Washington State, where are the best places for a day trip to explore and get some fresh fruit?
The 13 Best Places for Fresh Fruit in Washington State
You "May" not know this, but May is the start of the season for most farmers' markets to open up their shops. The Spring season starts for most sometime in early May to June and lasts until winter. Now is a great time to take a small day trip, explore our state, and buy some amazing fresh produce at one of these amazing 1 spots!
#1- Snow Goose Produce, Mount Vernon
They are a family-run, country market that is only seasonal. Their store is located on Fir Island in the Skagit Valley and offers the best in local produce, fresh and smoked seafood, baked bread, artisan cheeses, and carefully selected wines. You can find them at 15170 Fir Island Rd, Mount Vernon, WA, or online at Snow Goose Produce Market.
#2- Skagit Valley Farmers Market, Mount Vernon
Another great spot in Mount Vernon, the Farmers Market is home to many different vendors with their own personalities and produce. Most local farmers set up when they have enough stock sometime around early May or June. Find them at 15612 Best Rd, Mount Vernon, WA 98273, or online at Visit Skagit Valley.
#3- Barrett Orchards, Yakima
They offer the largest variety of Chukar Cherries in the world and are now open this spring! There is also an ice cream shop and plenty of fresh fruit. Find them at 1209 Pecks Canyon Rd, Yakima, WA 98908, or online at Fruit Place.
#4- Lattin's County Cider Mill and Farm, Olympia
At Lattin's Country Cider Mill and Farm, they specialize in Cider, Apples, Syrup, Applesauce, Apple Butter, and Jam. They have been in business since 1876 and do not offer any shipping on their products. That means you have to get them in person at 9402 Rich Rd SE, Olympia, WA 98501. Learn more on their website at Lattin Cider Olympia.
#5- Prey's Fruit Barn, Leavenworth
This little fruit stand is open-air and sells local fruit, dried fruit, jam, and honey. It sits right next to a huge orchard that grows multiple varieties of apples and pears. Their mantra is "From Farm to Table" and they live this every day. Visit them at 11007 US Hwy 2, Leavenworth, WA 98826, or on their website at Preys Fruit Barn.
#6- Collins Family Orchard, Selah
With Collins Family Orchard, you can purchase a seasonal membership to receive weekly boxes of fruit throughout the year. They have 4 different seasonal packages: spring, summer, fall, and winter with different fruit coming from mostly local growers. They offer both home delivery and on-site pick-up locations. Find out more at Collins Family Orchards.
#7- Country Mercantile, Pasco
This great spot is right in my own backyard. Country Mercantile has recently been known for their huge Fall and Halloween events but they still mostly focus on produce. They always have a large great selection all year long but their chocolate shop is worth a reason to stop by itself. Their main location is just outside of Pasco at 232 Crestloch Rd, Pasco, WA 99301 or catch them in Richland at 5015 Ava Way Richland, WA 99352, or online at Country Mercantile.
#8- Pike Place Market, Seattle
Pike Place Market is the original farmers market in Seattle. It is one of the most famous places to visit but also an amazing place to get fresh produce. Vendors of all types line the multiple levels of the market with produce from all over the state and beyond. Located down on the Seattle waterfront, find out more at Pike Place Market.
#9- Tonnemaker Valley Farmstand, Woodinville
Farming the Woodinville area since 2014, Tonnemaker Valley Farm offers organic vegetables and fruits from the area. They also sell starter plants to plant in your own garden. You can find them at 16211 140th Pl NE, Woodinville, WA 98072 or online at Tonnemaker.
#10- Schuh Farms, Mount Vernon
Schuh Farms located in Mount Vernon is open from April through December. They sell fresh produce, pies, baked goods, fresh fruit shakes, canned goods, eggs, plant starts, flowering baskets, and fresh flower bouquets. You can find them at 15565 WA-536, Mount Vernon, WA 98273, or online at Schuh Farms Wa.
#11- Ballard Farmers Market
The Ballard Farmers Market is one of the only fresh farmer's markets that are open all year long but for only 1 day a week. The market is only open on Sundays from 9 am to 2 pm rain or shine. The Ballard Farmers Market is known for only selling produce that is grown in Washington State. You can find the market at 5345 Ballard Ave NW, Seattle, WA 98107.
7 Famous Delicious Soda and Beers Created in Washington State
These seven sodas and beers originated in Washington State
QUIZ: Can You Name All 10 of Washington State's Famous Symbols
Are you really smarter than a 5th grader?
Take a look at the 10 most famous official Washington State symbols and see how many of these you can still remember and see how many of these you get correct on our fun test.