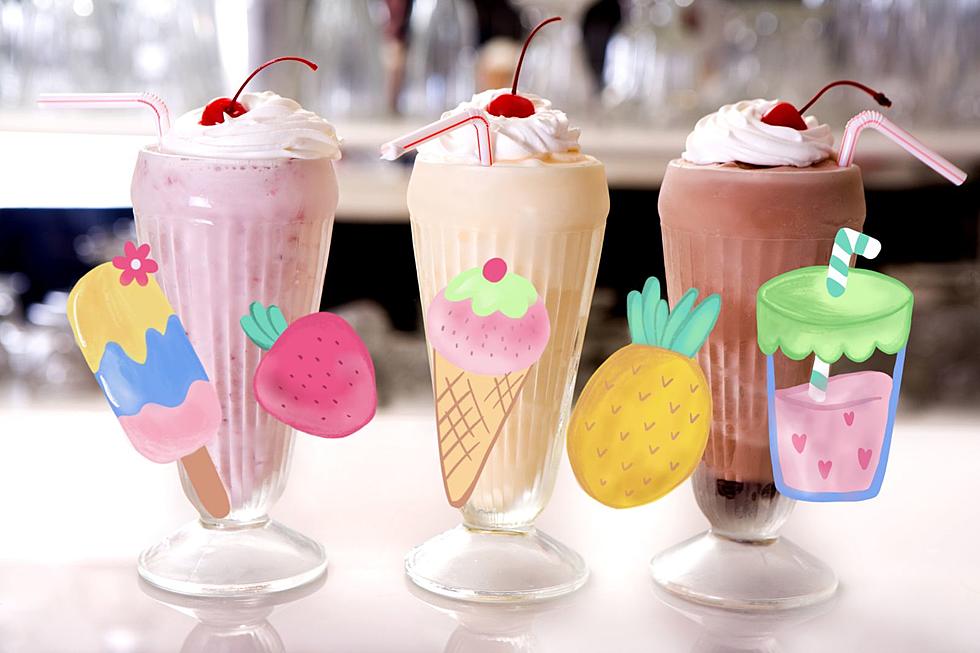 Want A Milkshake Mustache? Best Places for a Milkshake in NCW
Photo Credit: Aly/Canva
There's nothing better than a nice cold milkshake on a hot summer day. Sit back, cool off while you sip the joy through the straw. Below are the top places around the Wenatchee Valley for a nice cold Milkshake!
---
Top Milkshake locations in the Wenatchee Valley:
Dizzy D's
"Had the cheap cheeseburger, don't realize it came with tomato onions and lettuce, one of the best burgers I had. The onion rings were hot and fresh with thick delicious milkshakes." - Mike K
---
Owl Soda Fountain and Gifts
"A must stop place for anyone with a sweet tooth that visits Wenatchee. I stopped here passing through town twice on the same trip! The first time I got 2 giant scoops for $5 and they were very tasty. The next time I got the "Super Soda" root beer float with my friend. We enjoyed the whole drink. I plan to come back for more when visiting. :)" - Eric W
OWL SODA FOUNTAIN & GIFTS - Yelp
---
Ez's Burger Deluxe
"Great food but the service was even better. Very friendly and very thorough and made sure I understood all the options.  The Halibut sandwich was perfectly cooked and dressed. The milkshakes are the best in town!" - Dave S
---
Mission Burgers and Chicken
"Best food period. You need to park with your grub. Everything is good!! Service was fantastic! Milkshakes are bomb!! Enjoy" - W.C.
MISSION BURGERS & CHICKEN - Yelp
---
Monitor Hot Rod Cafe
"Everything you love about a burger joint! The mushroom burger was on point and the Hemi's were huge. Chili cheese fries were huge and the milk shakes were awesome! The service was fantastic also..." - Larry G
---
Dusty's In-N-Out
"NEW OWNERS!!!!
Had a group of friends meet there today. Excellent French fries, delicious burgers.  It's a must!!" - Geri E
---
Rusty's Drive In
"After a Veterans Day walking through Cashmere, exploring Pybus Public Market in Wenatchee, and driving through the Wenatchee Valley area my aunt, my uncle, and I came to Rusty's Drive-In for lunch. We each got a large soft serve swirl (vanilla and chocolate) ice cream. They were even offering a discount for Veterans, so we got a deal on the ice cream since my uncle is a Veteran (United States Marine Corps). We chose to take the drive-thru to place our order. The ordering was quick and the wait brief. The worker we interacted with was kind and we got our ice cream and headed to a nearby parking lot to park the car and people watch as we ate the ice cream." - Tanis L
---
Cashmere Cider Mill
"You must come here for the apple butter milkshake.  It is worth the drive (all three hours of it!). The cider tasting is fun too and we bought a few bottles to bring as hostess gifts for weekend brunch." - Jamie M
---
What's your go-to flavor? It may seem basic but I love me a real good vanilla shake! Simple, Sweet and tasty!
---
Simple Smoothie Recipe Tastes Exactly Like a Strawberry Milkshake
I make this smoothie almost every day, and I still can't get over how yummy it is. I swear it tastes just like a strawberry milkshake.
---
How To Make Boozy Cake Batter Milkshakes
This is the perfect summertime milkshake...for adults
---
9 Places in the Tri-Cities That Have the Best Milkshakes!
Who's got the best milkshakes in the Tri-Cities? We know and we've got the list for you below