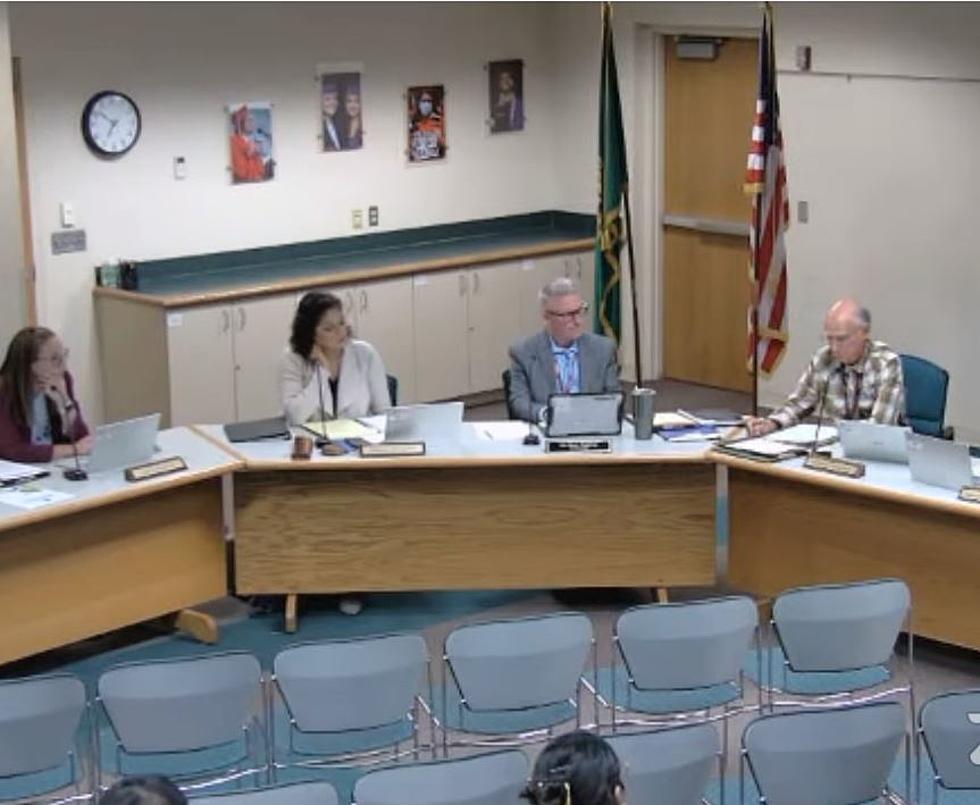 Wenatchee School Board Delays Decision Thomas Status As Member
Wenatchee School Board Meeting 9-26-23.JPG
The Wenatchee School Board will wait until their next meeting to decide the fate of board member Katherine Thomas.  
The board tabled a resolution brought by board member Laura Jaecks Tuesday night that would've called for a vote on whether to remove Thomas from her position.  
Thomas expressed outrage at how the process was unfolding during the meeting. 
"No one, not one board member bothered to attempt to reach me and ask if any of these allegations are true, not one of you," said Thomas. "Instead, you've just spent this public time to blind side me in an attempt to remove me from my seat. I find that stunning." 
Thomas has come under fire for failing to reveal the purchase of a home in El Paso, Texas.  
She claims her residency remains in Wenatchee, which is required for school board members under state law and Wenatchee School District policy.  
Thomas said she and her husband bought the home in El Paso so he wouldn't have to stay in hotels while spending most of his time there on business. 
School board members are also required to be active voters in Chelan County. 
Board Martin Barron wasn't moved by Thomas claim to be an active voter, calling it "hearsay" and saying the county auditor's office would need to be consulted to verify her voting status. 
Board President Maria Iñiguez noted Thomas had only appeared at recent board meetings 22 percent of the time and suggested the policy committee meet to hammer out requirements for in person vs. virtual attendance. 
Board member Julie Norton echoed the thoughts of some community members in saying the proceedings Tuesday evening lacked due process and were being rushed. 
"I know that we could declare all we want that we think somebody is invalid, or they're not a member, but if they don't agree to resign, I don't think we'd have any authority to do anything about it," said Norton. "I think we'd have to go to court." 
Norton was the only member to oppose having any discussion about the resolution brought by Jaecks. 
Jaecks, Barron and Iñiguez were more skeptical of arguments made by Thomas but declined to push ahead with the resolution. 
The board ultimately agreed to delay any action on the status of Thomas. 
The talked about having Superintendent Dr. Kory Kalahar and school board president Iñiguez meet privately with Thomas to determine what the actual facts are and determine if Thomas is actually still a resident of Wenatchee. 
The board agreed to table any movement on the resolution until their next meeting Oct. 10, and indicated there would be a private executive session at that time to discuss Thomas standing before moving forward in public. 
They were also given an ultimatum by local attorney Dale Foreman before they even discussed the Jaecks resolution. 
"Don't pass a resolution the same day you write it with no notice, because if you do, and if she wants to hire me, I'll take you to court and I'll beat you, because you can't get away with that in the United States of America," said Foreman. 
It's not clear if Foreman and Thomas were in discussions beforehand for him to appear before the school board Tuesday evening. 
Thomas is also serving out her term on the School Board. Thomas announced months ago that she would not seek election within the new board arrangement in which members are elected to four separate positions tied to geographic location within the city and one at large position.  
All five school board positions are on the ballot in November. 
There are three more school board meetings and one work group scheduled before the election.