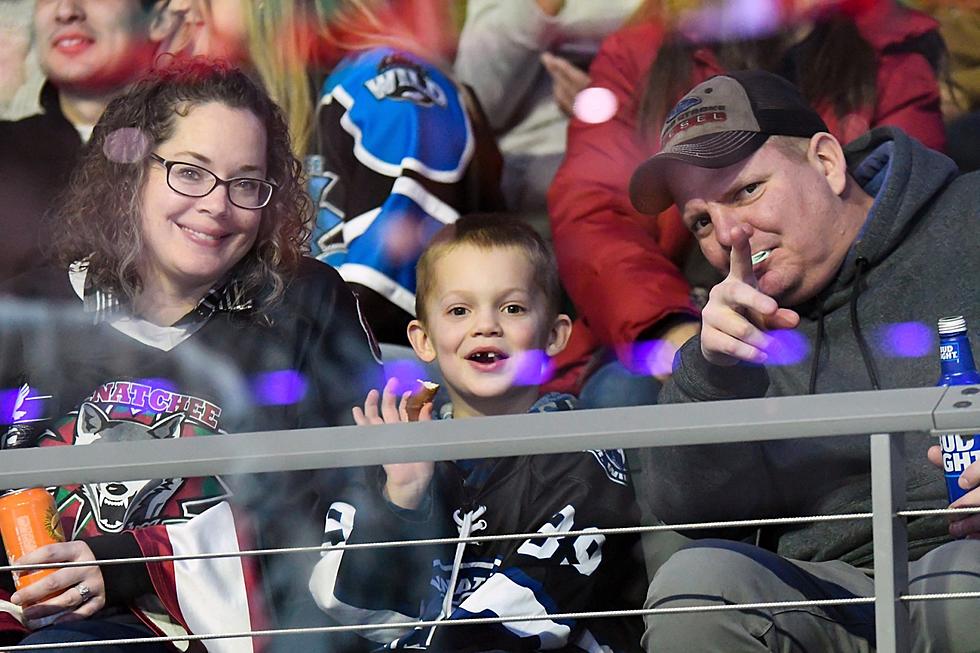 Wenatchee Wild Release 23-24 Regular Season Schedule
PHOTO: Wenatchee Wild fans at Town Toyota Center (Photo: Digital Media Northwest)
PHOTO: Wenatchee Wild fans pose for a photo in the stands at a 2022-23 home game. The Wild announced their 2023-24 regular-season schedule Tuesday, including 34 home dates at Town Toyota Center. (Photo credit: Russ Alman/Digital Media Northwest)
By Austin Draude Wenatchee Wild Media Relations
WENATCHEE, Wash. – The Wenatchee Wild have released their Western Hockey League (WHL) regular-season schedule for the 2023-24 season, their first as members of the WHL and its U.S. Division. The 68-game schedule and 34-game home slate represent the longest such schedules in team history, as the Wild move to the circuit after an eight-year tenure in the British Columbia Hockey League (BCHL).
The team's first official outing as a WHL member club will also be its first home game in the WHL, as Wenatchee welcomes the Portland Winterhawks to Town Toyota Center for its home opener Friday, September 22. The Seattle Thunderbirds visit the following night to mark the first official game against an in-state foe in Wild history – this matchup will also be a WHL Final rematch of sorts, as the Wild take the place of the former Winnipeg ICE in the league and inherit Winnipeg's roster from a year ago.
Wenatchee's first official road test in the WHL will be the following weekend, with a three-day road swing through Everett on Friday, September 29, before visiting Kelowna and Vancouver on the following two nights. Other key dates on the schedule include a Black Friday home contest against the Spokane Chiefs on November 24, a New Year's Eve home date against Seattle, and the final home weekend of the season March 15 and 16 against Spokane and Portland. Wild fans can look forward to the return of several popular promotions such as Guns & Hoses, Wildgiving, HOWLoween and the Teddy Bear Toss, though exact dates and promotional nights remain to be announced.
"I am looking forward to this epic season ahead! Each day it gets closer is more and more exciting," said Wenatchee Wild director of sales & marketing Gretchen Littler. "It will be fun to pack the Wolves Den with local and out-of-town fans – I'm wondering which team will be our biggest rival. Our office has been buzzing with excitement and we have loved the energy the new and current season ticket holders are bringing. See everyone in September!"
The bulk of the schedule will be played against U.S. Division teams, with eight games (four home, four away) against Tri-City, Everett and Spokane, and six games (three home, three away) against Seattle and Portland. 21 games will be played against B.C. Division teams, with the Prince George Cougars the most common opponent (three home, two away). Each of the five East Division teams will visit Wenatchee once this year, while the six Central Division teams will welcome the Wild to their rinks.
Weekend dates at Town Toyota Center will be plentiful, with 10 Friday, seven Saturday and seven Sunday home contests. The remainder of Wenatchee's home dates will be played on Tuesday (four games), Wednesday (five games) and Thursday (one game). Friday night home games will remain at 7 p.m., while Saturday and weeknight games will continue to be played at 6 p.m. Sunday home games in 2023-24 will be played at 4 p.m.
Tuesday's regular-season schedule announcement follows the unveiling of Wenatchee's preseason schedule on Monday, with five exhibition games set to lead the team into its 2023-24 campaign. One of those games – a Saturday, September 9 affair against the Tri-City Americans – will be played on home ice at Town Toyota Center. All five preseason games will be played within the state of Washington against U.S. Division opponents.
Single-game ticket information will be announced at a later date. 2023-24 season tickets are on sale now – to purchase season tickets, call 509-888-7825 or stop into the team office at Town Toyota Center. More information is available at www.wenatcheewildhockey.com