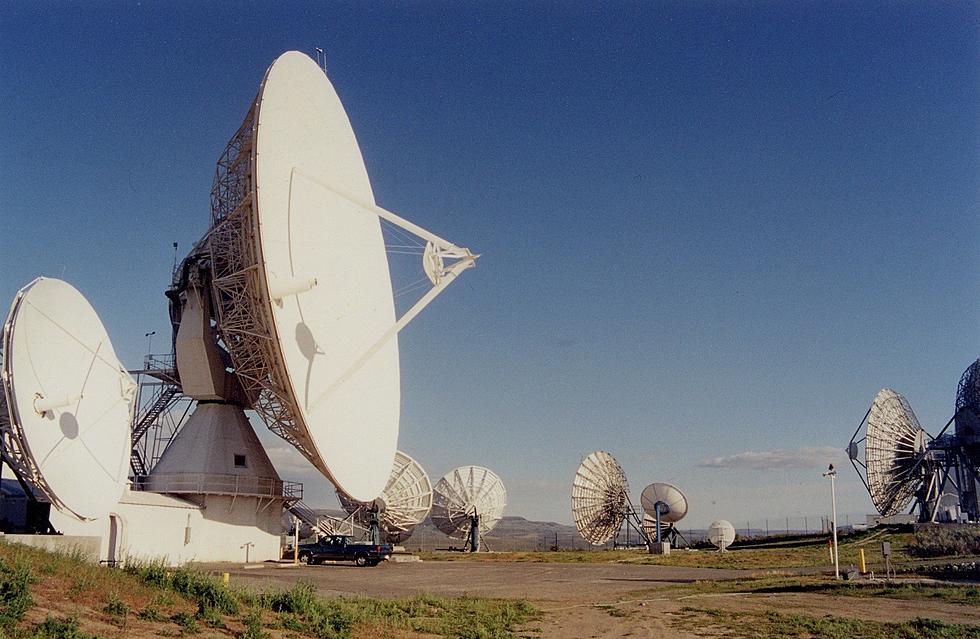 What are the Several Dozen Satellite Dishes Near Brewster?
Photo: THE CENTER FOR LAND USE INTERPRETATION
I recently drove from Wenatchee to Concunly for a wedding. After stopping at a grocery store in Brewster, I turned on my Google Maps app for directions. The route took me on Old Highway 97. from Brewster to just south of Okanogan.
Driving about 5 minutes Brewster, I saw a field with lots and lots of satellite dishes. I wondered what it was. A couple of days later, I did some research and found an interesting story. 
---
The important Brewster Teleport Facility was built in 1965 by the newly created COMSAT company. COMSAT began not long after the 1962 "Communications Satellite Act."  This oversaw the brand-new and exciting development of satellite communications.
COMSAT initially joined with 17 other countries in forming the International Telecommunications Satellite Consortium, INTELSAT.
U.S. Electrodynamics Inc. (USEI) purchased the site in 1987. I've learned that the Brewster teleport uses 50 plus antennas, used as a vital link with countries from Asia and the US. USEI uses many satellite dishes for Voice, data, and video transmissions.
If you're watching the news and see reporters in Japan, Hong Kong, South Korea, or anywhere in Asia - the reports are being linked through the Brewster Teleport to several American television networks.
Other examples of how the Brewster dishes are used include info beamed to North America on how the Tokyo Stock Exchange performed that day.
There is a large amount of airline jet traffic that flies eastbound and westbound from Sea-Tac airport and Boeing Field.
Any air traffic from Europe and the Mid-East also navigates north and southbound routes overhead. The FAA provides the service of maintaining air traffic control. They do this by utilizing the Brewster telecommunications facility in conjunction with the giant white FAA Badger Mountain radar dome.
The Brewster Teleport has been a communication link for the Sea Launch program, which launches satellites at sea from floating platforms. Sea Launch was used for Direct TV and XM Sirius satellite radio satellites. The US Department of Defense also uses the facility.
---
Back in 2010, KXLY TV 4 Spokane did a story on the facility
---
INFO: USEI-Teleport-Brewster, Lockheed Martin, Sea Launch, FAA
LOOK: 31 breathtaking images from NASA's public library
In 2017, NASA opened the digital doors to its
image and video library
website, allowing the public to access more than 140,000 images, videos, and audio files. The collection provides unprecedented views of space.
Stacker
reviewed the collection to select 31 of the most breathtaking images, including the first from the James Webb Space Telescope. Keep reading to see these stunning images, curated with further information about the captured scenes.
Black Brant XII Rocket Launch from NASA Wallops in Virginia Visible from New Jersey
The much delayed Black Brant XII rocket finally launched on Sunday night from NASA's Wallops facility in Virginia at the end of it's window for a possible launch.
The vapor trail from the rocket was clearly visible from New Jersey about 10 minutes after the launch which had been scrubbed seven times since May 7 due to weather