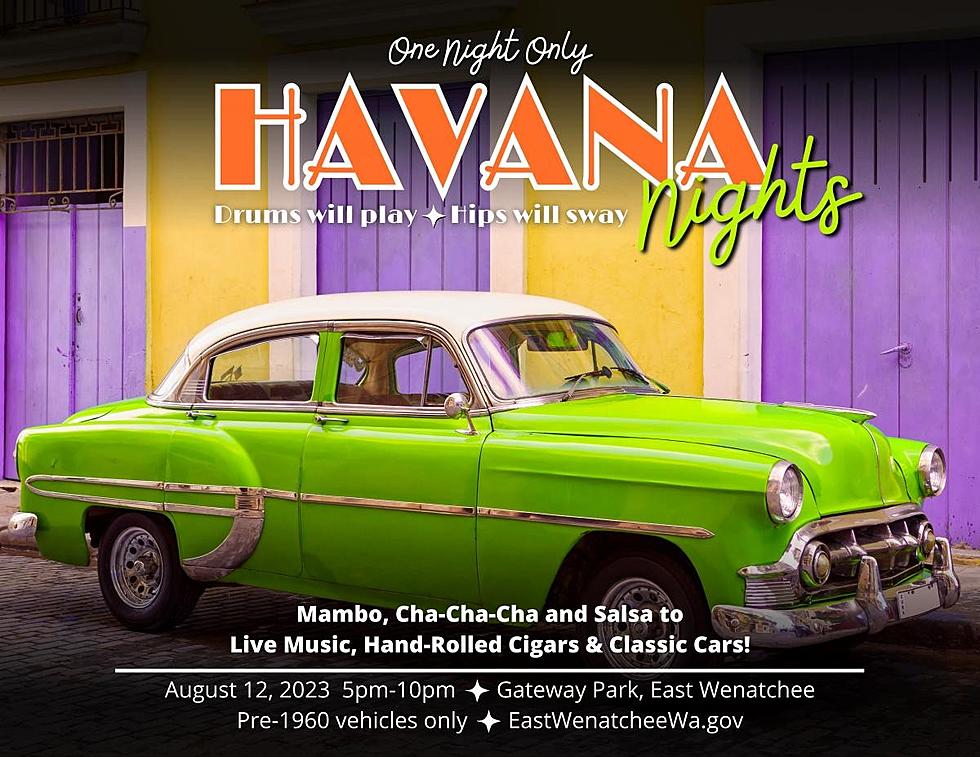 Cuban Themed Gathering Coming To East Wenatchee In August
Havana Nights image from city of East Wenatchee
The city of East Wenatchee is gearing up for its newest event. 
It's hosting a free gathering called Havana Nights next month, which has a Cuban theme. 
East Wenatchee Events Coordinator Trina Elmes says it's centered around pre-1960's cars, marking the 1959 Cuban revolution which brought Fidel Castro to power, and when Cubans were banned from importing American cars.  
"We're going to have vehicles lining Valley Mall Parkway that are pre-1960's." said Elmes. 
East Wenatchee is hosting Havana Nights with Clearwater Casino, which will have a beer garden. 
The casino is also bringing in Cuban music bands - Son Los Que Son and Tumbao, and the Mambo, Cha Cha, Salsa dance group Danzas Multiculturales will perform two separate 20-minute shows. 
In addition, Elmes says the event will also feature a purveyor of hand rolled cigars, which will come with matches, a lighter and a cigar cutter for those who purchase tickets specifically for the cigars. 
"We're really trying to turn downtown into Havana for a night," Elmes said. "And it's really going to be fun." 
Anyone interested in entering a pre-1960's vehicle is asked to fill out an application on the city's website. 
Today in 2023, the roadways in Cuba are still populated with thousands of 1950s American cars. A few of the cars are restored, but most have been preserved with creative engineering to remain running since the late 1950s. 
Havana Nights is the third annual event staged by the city of East Wenatchee. It joins the popular Classy Chassis Parade and Car Show that takes place around the time of the Apple Blossom Festival in Wenatchee, and the Pangborn Festival of Flight this upcoming weekend, which commemorates a trans-Pacific airplane flight from Japan that ended with a crash landing near East Wenatchee in 1931.  
In addition, the city hosts the annual Wings 'n Wishes Tree Lighting event in December. 
Havana Nights takes place August 12 from 5pm-12midnight in the 800 Block Of Valley Mall Parkway in East Wenatchee.
Discount Auto Glass is a major sponsor of the event.