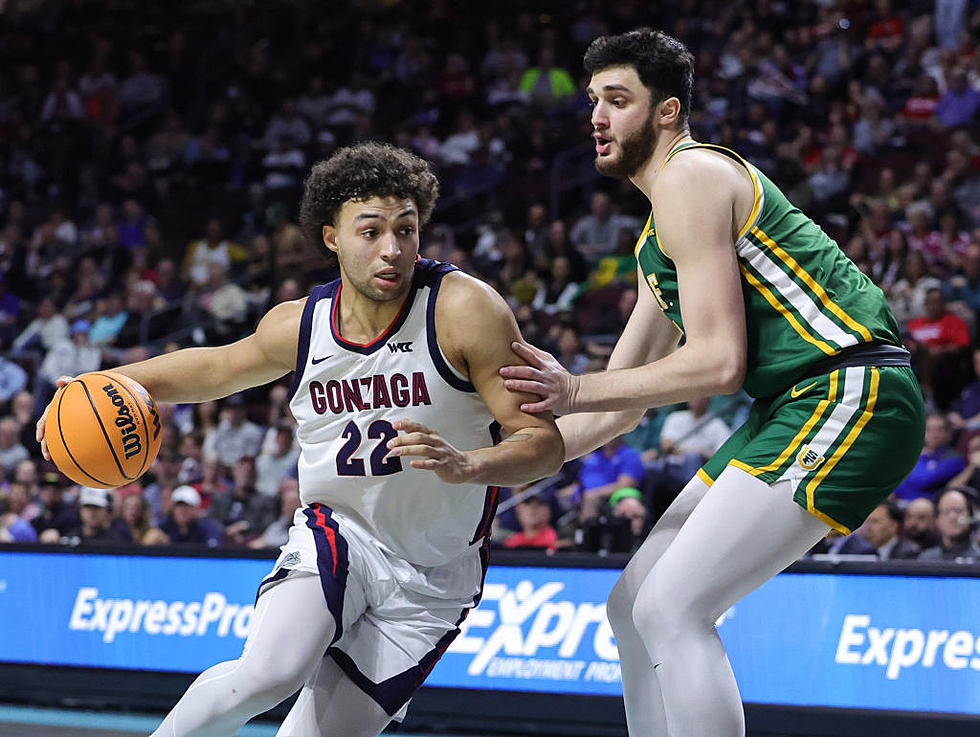 Gonzaga Begins Season at #11 but Faces Questions
Getty Images
Anton Watson has lived every phase of the Gonzaga experience, from being an important role player on a squad that reached the national championship game to growing into an established starter.
That entire time, Watson and the Bulldogs have lived with the expectations of being one of the best teams in the country. And while some of those expectations are still there, this season has a different feel for the 11th-ranked Zags with a handful of new faces and others stepping into bigger roles.
"Team chemistry has been really good so far and it shows on and off the court. The vibes have been great," Watson said.
This season is the start of a new phase for Gonzaga.
Drew Timme is gone after what seemed like an eternity in Spokane. Watson is one of only two returning starters from last season's team that went 31-6 and lost to eventual national champion UConn in the Elite Eight. Gonzaga wasn't ranked in the Top 10 of the preseason AP Top 25 for the first time since the 2017-18 season.
And perhaps the most significant sign of the uncertainty surrounding the Bulldogs — they were picked behind Saint Mary's in the preseason West Coast Conference poll.
The Bulldogs could end up being very good, but getting to that point may be one of the more challenging journeys of coach Mark Few's tenure. Gonzaga landed one of the top available players in the transfer portal when Ryan Nembhard followed his brother Andrew's path and joined the Bulldogs from Creighton. The Zags also added former Wyoming big man Graham Ike, who two seasons ago averaged 19.5 points and 9.6 rebounds before an injury derailed last season.
Throw in talented freshman wing Dusty Stromer and last season's Big Sky player of the year, Steele Venters, and Gonzaga appears to have the personnel. But how quickly it all comes together is the big question, especially with another brutal nonconference schedule.
"Seems like normal to me kind of continuity-wise and all that. Seems like we had a lot of new faces last year, too," Few said. "So it's just it's kind of the way it goes and especially when you're at a high-level program."
RETURNING CREW
Along with Timme, the Zags lost starters Julian Strawther and Rasir Bolton off last season's team, leaving Watson and guard Nolan Hickman as the two returning starters. Watson averaged 11.1 points and 6.2 rebounds and started all 37 games last season. Hickman was right behind, starting 36 of 37 games played, scored 7.7 points and was second on the team in assists.
Some of Gonzaga's depth also took a hit with Malachi Smith out of eligibility and Hunter Sallis transferring to Wake Forest.
NEW FACES
Nembhard was an instant boost to Gonzaga's backcourt. He was the Big East freshman of the year in his first season at Creighton and followed up by averaging 12 points and nearly five assists per game last season. Nembhard and Hickman are likely to play as a duo in Gonzaga's backcourt.
Ike missed all last season due to a right foot injury and the Zags have been very careful with him. He was a force in the middle two seasons ago for Wyoming and is the most proven interior player on Gonzaga's roster.
Venters transferred from nearby Eastern Washington, where he started his career as a walk-on before becoming the best player in the Big Sky last season after averaging 16.7 points and shooting 43% from 3-point range.
Stromer was ranked as one of the top 50 recruits in the country and the 6-foot-6 wing should step into a prominent role almost immediately.
ROAD AHEAD
The Bulldogs will get tested right away. Gonzaga will open the Maui Invitational with No. 3 Purdue and then face No. 9 Tennessee or Syracuse. The Zags will face No. 21 USC and No. 6 UConn in neutral-site games in Las Vegas and Seattle respectively, play at Washington and host No. 17 San Diego State in the marquee nonconference game played in Spokane.
And in the middle of conference play, the Bulldogs will travel to No. 16 Kentucky for a February showdown with the Wildcats.