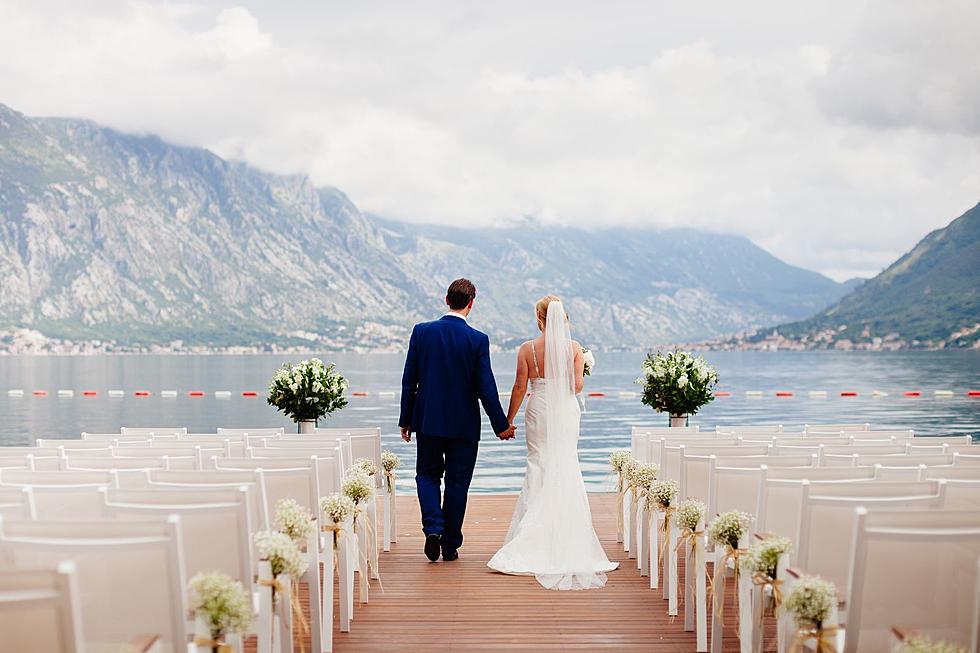 Have you Booked your Wedding Venue?
Photo Credit: Aly/Canva
Wedding season is about to be, if anything already is, in full swing! Besides the dress, and groomsman attire, and all the little details, get the venue locked down on the day you want it to be held on! The rest is in the details.
---
Top 10 Wedding Venues in NCW according to Yelp:
1. Chateau Faire Le Pont Winery - Wenatchee
"This winery not only has excellent wine, it is also dog friendly inside. I was pleasantly surprised not only that I could bring my dog in but t they even had a dog bed for her to lay on. Being very hot outside this was enjoyable for everyone.
They have 18 different wines that you can taste for a reasonable tasting fee for hat is waived if you purchase a bottle." - Shawna W
CHATEAU FAIRE LE PONT WINERY - Yelp
---
2. Warm Springs Inn and Winery - Wenatchee
"If you're looking for a welcoming warm and beautiful place then this is for you. We had such a great weekend stay. The host/owners are so friendly. The other patrons were also lovely. Julie gave us great advice on things to do in the area. And we really enjoyed Ludger delicious breakfast both mornings." - Laura W.
WARM SPRINGS INN & WINERY - Yelp
---
3. The Sunshine Ranch - Wenatchee
"My wife and I got married at Sunshine Ranch on 9/17/2016. Lisa and Brad were fantastic to work with through the entire process. The venue is beautiful both inside the wonderful barn and outside on the nice grounds.
We had more than 100 guests and the venue was perfect. They supply the tables, chairs and linens. They have great connections with several key services. Our photographers caterer and music providers were all familiar with the location and had great things to say about the venue and Lisa and Brad.
We would highly recommend this outstanding location. Lisa and Brad could not have been more supportive and easy to work with." - Glen K
---
4. Rent Wenatchee
"Rent Wenatchee supplied the special items that we needed for our daughter's wedding last weekend.  Laura, the owner, went out of her way to get candle vases, burlap table runners, and wooden folding chairs for the reception and delivered everything on time to the winery venue.  Our daughter wanted a very specific look for the reception, and we couldn't find these items for rent anywhere in Wenatchee.  However, after contacting Laura, she was able to purchase these items and rent them to us for a very reasonable price.  She was extremely friendly,  professional, and accommodating, and she communicated with me whenever it was necessary.  Most of our guests were from out of town, and they were extremely impressed with how beautiful everything looked.  I highly recommend Rent Wenatchee for anything you need for event rentals.  If you don't see a item that you need on their website, contact Laura and she'll do everything she can to get it for you." - Sharron B
---
5. Ohme Gardens - Wenatchee
"This place is a beautiful oasis. Love the background love story of the couple who made this place. The staff is super friendly and welcoming. Went in October and they are doing a special "find the skill" hunt activity throughout the garden for a prize. To me this garden looks like a hobbit area with the stone steps all throughout (it's gorgeous). The flowers throughout were so pretty and well maintained. There are 4 man-made waterfalls, over a mile of steps that go through the garden, and over 50 benches throughout. I recommend packing a picnic and enjoying the beauty. I sat for a while and watched the blue jays with the views of the mountains right behind; gorgeous!" - Brittany C
---
6. Cashmere Riverside Center - Cashmere
"This was a great place for my wedding. Had more than enough space for everyone who came. There is an indoor and outdoor area which is just what we were looking for.." - Alyssa L
CASHMERE RIVERSIDE CENTER - Yelp
---
7. Gather Leavenworth - Leavenworth
"Great experience working with Ashley and her team. They made the wedding planning process painless for my husband and I, and took away all the stress. Everyone kept telling me how stressful the process was and how I'd be worried about things coming together and I never felt stressed the entire time, and was able to completely enjoy my day knowing everything was taken care of. An event planner myself, I have a hard time going to an event and not paying attention to all the details but they had them all covered. It's helpful they have relationships with all the vendors in town and with their help, we put together a vendor dream team. We could not have been happier with the whole planning and execution of the whole wedding and know anyone that hires Gather Leavenworth will be equally as pleased." - Sydney B
---
8. Katrina's Wedding Boutique - Wenatchee
"We booked a wine tour with Katrina. We had 22 people, had 2 limos, and 2 awesome drivers. We were even able to coordinate bringing our own lunch to our first winery stop. Our drivers were extremely flexible, helpful, fun, & accommodating! They were on time and handled our large group gracefully! They were even our photographs! They even sent pictures to me right after! We had the perfect time! Our wine tour was booked from 11am-5pm. Perfect!
Thank you for such a memorable time! We definitely recommend Katrina and her staff!!!" - Catherine E
KATRINA'S WEDDING BOUTIQUE - Yelp
---
9. Highlander Golf Course - East Wenatchee
"My friend chose the Highlander for her wedding venue, so although we did not use the course itself, the view was very pretty.
I think there was a snag with a party that was using the clubhouse before us (overlapping booking mistake, maybe), and they were only going to give us a half hour before the ceremony to set-up...HAHA.  In the end, they fixed the mistake, I guess by booting the other people out?  Not sure, but it ended up OK.
There was a tournament that same day, so it was a little weird having people trying to come in and out of the bathroom/locker room, while the bridal parties are trying to get ready & dressed.  Not sure if that is normal since I've never been to a wedding at this type of venue....
Food was catered by the Highlander;  I thought it was pretty tasty (fajita-ish dishes).  Bar made stiff drinks & there was a cute outside tented area for dancing." - Anna S
---
10. Lake Chelan Wedding Rentals - Lake Chelan 
"I honestly cannot say enough great things about Lynn & Fleur de Lis!!  She was so instrumental in our wedding vision coming together just the way we had envisioned it, and an absolute pleasure to work with.  It's several months later that I'm finally getting around to writing this, and as I do, I am staring at my beautiful dried bouquet and air plants she found for me!!  So, I am clearly still enjoying the beautiful fruits of her labor.  From Day 1, Lynn listened intently to my ideas, brainstormed with me, and was incredibly flexible and patient as I changed directions throughout the planning process.  Not only did Lynn go out of her way to find me my (exotic and hard to find) dream flower, but she also found the perfect vases and decor to complete our unique combination of modern geometric meets elegant.  Besides having an incredible talent for floral design and procuring just the right decor, Lynn exudes a passion and positive energy for what she does, which was so fun to be around as I was sometimes (okay, often) overwhelmed by all I had to do.  Lynn, thank you a million times over for everything you did to make Jon and my special day so incredibly perfect.  I hope that our paths cross again someday!
- Marcy M.
Married at Karma Vineyards, Lake Chelan 2016" - Marcy M
LAKE CHELAN WEDDING RENTALS - Yelp
---
Now book that venue and let the rest fall into place! Congratulations by the way!
---
Top 10 Best Wedding Venues near Wenatchee, WA 98801 - May 2023 - Yelp
---
These Are the Top 15 Global First Dance Wedding Songs
Discover the top 15 first dance songs used at wedding around the world, below (as of March 2022).
---
Some of the Worst Wedding Disasters Ever:
While some wedding day issues are weather-related others are created by a bunch of chaos. Check out these outrageous wedding day disasters.
---
The Best Places in Idaho To Book Your 2023 Wedding
Spring is here and love is in the air! It's time to start planning your dream wedding right here in Idaho.