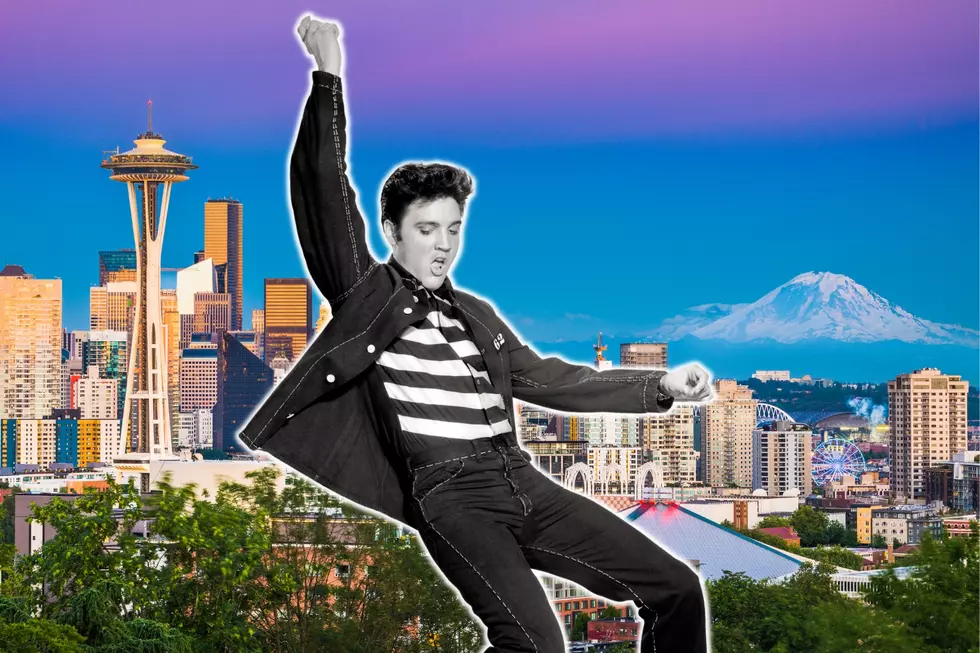 People Don't Talk About This Classic Elvis Movie Filmed in Seattle
Getty Images, Pixabay
When we look at Elvis Presley's incredible career, we think of all the hit records. We think about his historic Ed Sullivan Show performance. We think about his energetic shows at the International Hotel in Las Vegas. We think about the day Elvis met President Nixon. But we don't think nearly enough about his movie career, including one film that was set and shot in Seattle.
In 1956, Elvis made his film debut in Love Me Tender, which would feature a new hit song of the same name. For the next 13 years, the King of Rock & Roll would be king at the box office. Presley had starred in 27 movies in the 1960s alone by the time his movie career ended. Elvis was a workhorse. Elvis was, perhaps, the biggest movie star of his era but never got the respect he certainly wished he had. He was well aware of his status as a teen idol but he took himself seriously as an artist, both as a musician and an actor. He wanted to be seen as a serious actor with talent. Unfortunately for Presley, making cheap films that merely served as Elvis vehicles was highly profitable, almost like printing money.
It Happened at the World's Fair (1963) was set and filmed in Seattle
Of Elvis' many, many movies, a few come to mind almost immediately. Blue Hawaii spawned his classic single "Can't Help Falling in Love" and self-titled songs were on the soundtracks of Jailhouse Rock and Viva Las Vegas. Presley was a huge draw at the box office. Early in his career, Elvis would star in the 1963 film It Happened At The World's Fair which was set against the backdrop of the Century 21 Exposition, also known as the Seattle World's Fair.
The idea to shoot an Elvis picture in Seattle was from then-governor Albert Rosellini
Elvis was on-hand in Seattle for ten days. It wasn't just business for the king, however, as he did take in the sights and sounds of Washington's biggest city. His arrival came with much fanfare, with around 300 teen girls waiting for the king's arrival at the New Washington Hotel. There is also a legendary tale of the governor of Washington believing he was receiving some pork from Elvis' private stash, leading to a hilarious photo-op.
It Happened At The World's Fair features the debut of Kurt Russell
Despite being a rare box office dud for Elvis, It Happened At The World's Fair still proves worth your time. Iconic Seattle and Washington iconography can be seen, including Mt. Rainier, the Space Needle, and the Monorail. For film historians, seeing a young Kurt Russell make his debut is a treat.
Kurt Russell played Elvis Presley in Elvis 16 years later
Elvis quit acting in 1968, citing a desire to focus on his music. His legendary comeback special was released that year and in 1969, the last of Elvis' Hollywood endeavors would be released. Kurt Russell would make several Elvis-related appearances after It Happened At The World's Fair. In 1979, Russell played Presley in the television movie biopic Elvis and would "reprise the role" in 1994's Forrest Gump, providing his voice to compliment Peter Dobson's physical performance. In the Oscar-winning movie, a young Forrest teaches Elvis how to dance. Russell was uncredited. Russell put the sequin-studded cape on again in 2001 for 3000 Miles to Graceland which features Russell and Kevin Costner, dressed as Elvis, attempting to pull a heist.
In It Happened At The World's Fair, Kurt Russell is paid by Elvis to kick him in the shin
Kurt Russell was ten years old when he was given the opportunity of a lifetime; to meet (and assault) Elvis Presley. In the film, Elvis pays a boy to kick him in the shin to give him a chance to meet a nurse he wants to date. Russell told Graham Norton that the significance of meeting an American icon was lost on him but called Elvis "a really nice man" and said that when Presley arrived on set in his car, "maybe two or three thousand women jumped the car," forcing Elvis to take a different way to set. At the time, Russell thought "this guy must be really famous."
A Bunch of Amazing Celebrities You Know & Love are From Washington
Washington's A-listers, Oscar winners, Grammy winners, and faces of big franchises in one comprehensive list.
These are celebrities that have been born in, moved to, or lived in Washington.