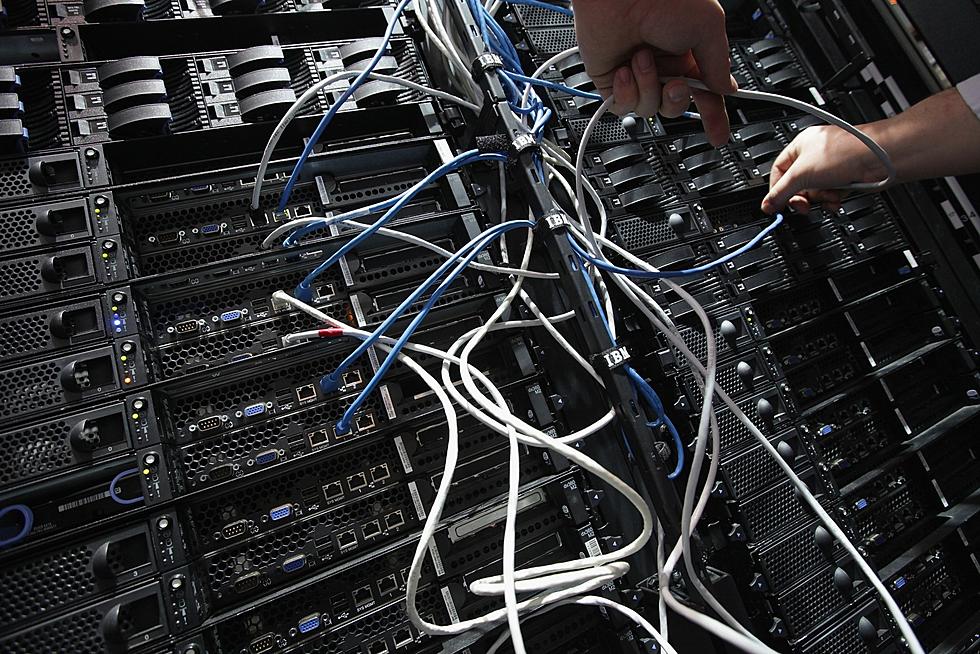 Quincy, WA High School: Land of IT Opportunity
Getty images file photo
Quincy, Washington's slogan has been "Land of Opportunity" and the Quincy area has been the center of a thriving information technology (IT) presence for a number of years.
Now, Quincy High School is exploiting that IT presence into a new opportunity for students to get started on a high tech IT career with what is described as a "ground breaking" partnership, years in the making.
A unique partnership between Quincy School District, Grant County Data Centers, Big Bend Community College, Seattle based non-profit Computing For All and the North Central Career Connect Washington Regional Network has received a key approval and is already launching Quincy students to a tech career close to home.
According to a news release from North Central ESD and Quincy School District
The Quincy Data Center Prep program launches students on a path to a tech career by developing the skills, earning the credentials and work experience to get data technician jobs one year after their high school graduation in roles such as Data Center Technician or general IT Administrator
These sought after jobs offer excellent wages and benefits.
The program has received the final endorsement from the State Board of Community and Technical Colleges in April.
"Career Launch programs take considerable partnership and planning to develop, but they are intentionally developed to align to the skills and experiences young people need to be competitive candidates for great local jobs," explained Dr. Sue Kane, Director of STEM Initiatives and Strategic Partnerships for the North Central Educational Services District.
The Data Center Technician Career Launch program is designed for Quincy High School students to complete their first year of a two-year certificate program while still attending high school.  Students transition to courses offered at Big Bend Community College, where they will have the opportunity to participate in a paid internships at Grant County-based data centers.  The program creates a pathway for local youth to earn  valuable credentials and compete for lucrative Data Center Technician positions.
The Grant County Industrial Alliance (GCIA) helped support  the Data Center Tech Career program development. GCIA represents the local data center industry; Intuit, Microsoft, Oath, NTT DATA, Sabey, Vantage, Verizon Media, and H5 Data Centers.  As the demand for IT professionals has grown, GCIA and Big Bend Community College saw the need for a program to develop the local workforce needed to support data center operations. The first cohort of 13 students were enrolled last fall.
Employer partners include Microsoft and Sabey Data Centers, which both operate facilities in Quincy, WA.
"At Sabey Data Centers, we're really proud to be involved with the Data Center Technician Launch program," said Shawn Devine with Sabey Data Center. "From my experience, I've found it's been mutually beneficial for the community, the students, and us as a company. As Sabey grows, we're going to need additional talent.  This program offers local students an opportunity to work in an industry where they have a bright future."
Quincy School District has been trying to enhance student's opportunities for local IT career opportunities by offering introductory computing and programming coursework in IT.
Dr. Nik Bergman, Quincy School District Superintendent sees a bright future for the collaboration.
"The Data Center Technician Career Launch Program perfectly aligns with our QSD Strategic Plan Goal Five - Pathways to Graduation and Beyond," he said. "Upon graduating from Quincy High School, seniors will not only receive their diploma but also earn a technician certificate, enabling them to make immediate contributions to the thriving data center industry in our community. We are incredibly excited to partner with local data centers, as this collaboration provides our students with an innovative and promising career pathway. We are grateful for the support of our community's data centers, who have recognized and actively sought out talented students from Quincy High School."
Seattle-based nonprofit Computing for All was recruited in 2021 to support the regional partnership in the creation of the Career Launch program.
The program is open to Quincy High School Juniors and Seniors who undergo 360 hours of classroom instruction, followed by one year at Big Bend Community College in the IT Systems Administration Associates/Certificate/Cisco Networking certificate degrees. Participants will earn 15 dual college credits towards the IT Systems Administration Associates/Certificate/Cisco Networking certificate offered by Big Bend, along with CompTIA A+ and ITF+ industry certifications.  Students can get up to 400 hours of work-based learning during the summer after their high school graduation or following the first year of college.
John Deere's See & Spray Technology
In 2023, farmers will have the opportunity to utilize John Deere's latest See & Spray technology in the field. Lets take a look around the machine.
Gallery Credit: Kailey Foster