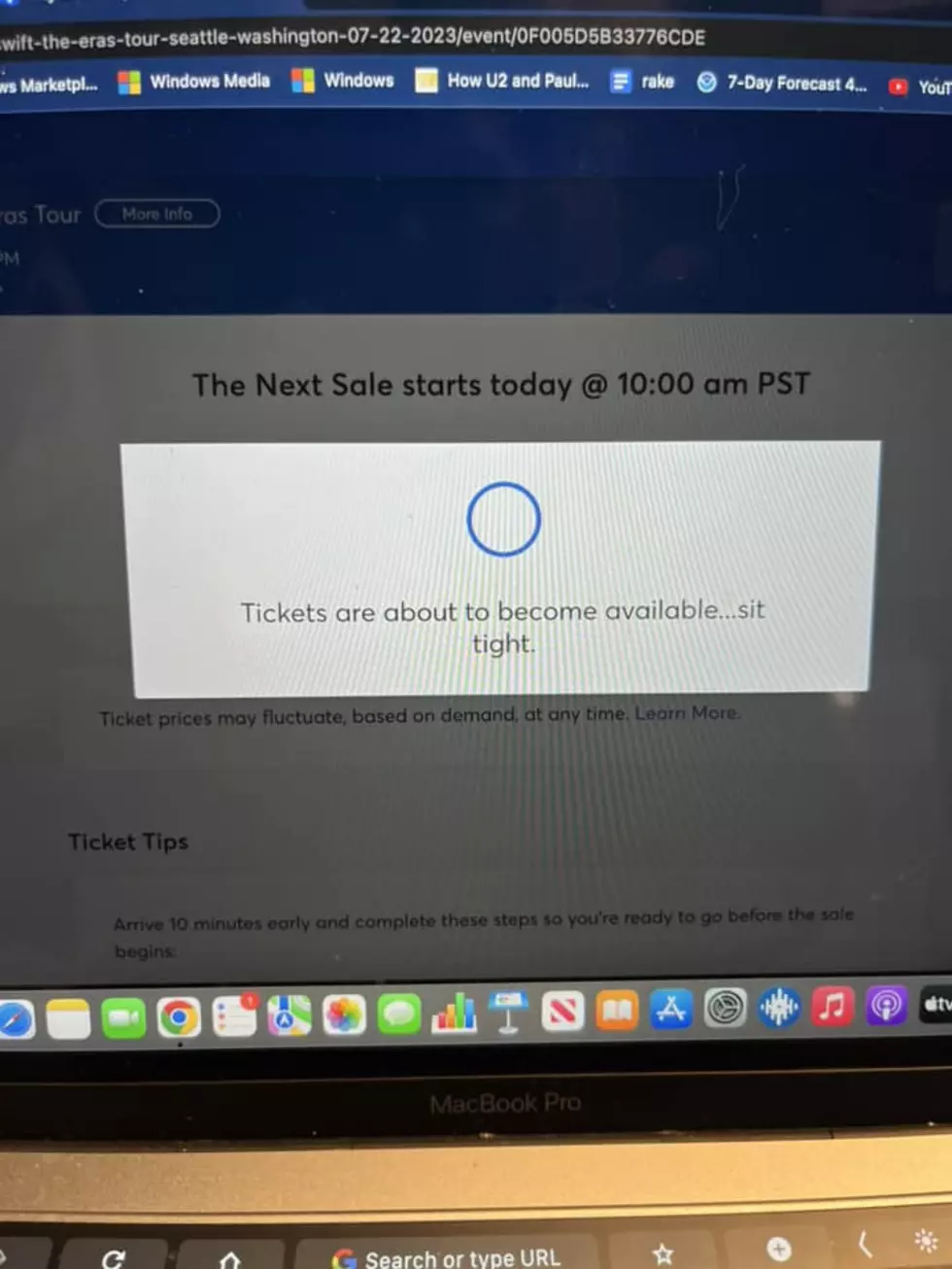 Taylor Swift fans broke Ticketmaster
Credit: Connor
I'm a fan of Taylor Swift. Love her music…seen the tours on Youtube. One of the best acts of this entire generation.
My wife is ten times the fan. She's a Swifty and has seen every tour since the late 2000s.
My wife is also a teacher, who couldn't get away for the scheduled 10am online ticket sale for the Swifty fanclub.
So, I had the duty of purchasing 4 tickets for the Taylor Swift, Saturday July 22nd Lumen Field show in Seattle. My wife and I rehearsed the procedure. She gave me USER and PASSWORDS for her fanclub and for her account with Ticketmaster.
I even had the event presale code to purchase the tickets.
Logged in at a quarter to 10...saw the countdown. Okay I'm good.
At 10am, the screen changed to this:
Credit: Connor
Then things started to go sideways
credit: Connor
NOOOOOOOOOOOOOOOOOO!
Refreshing the screen, I then saw the announcement that Ticketmaster was getting bogged down. By probably more than one hundred thousand passionate Taylor Swift fans:
credit: Connor
I was thinking this was all going bad.
Then this screen oddly displays a NEW time. 3pm? Really? Really.
credt: Connor
I then saw a confirming  email from Ticketmaster explaining my crazy half hour of anxiety:
"Due to historically unprecedented demand for tickets, your TaylorSwiftTix Presale for Lumen Field has been rescheduled to 3pm PT today to enable Ticketmaster's systems to meet that demand. All presale codes and links sent via text will still work at that time.This is a reminder that no tickets for your event have been sold yet.JOINING THE WAITING ROOM

The Waiting Room will open 30 minutes prior to the events going on sale. Make sure you arrive early and login to your Ticketmaster account in advance on the device from which you intend to purchase tickets. You must log in with the same email and password used for your Verified Fan registration.
Review your Stored Billing to confirm your credit card is valid and billing address is up-to-date.
When shopping for tickets, stay within one browser window. Opening multiple windows or tabs to purchase tickets may result in errors."

---

So...its official! Swiftys! You broke Ticketmaster with the HUGE demand for tickets at Seattle's Lumen Field!


So here is the UPDATED rundown of ticket times for Taylor Swift's TWO Seattle shows

FANCLUB: Wednesday 11/15/22 at 3pm

Capital One card holders: Wednesday 11/16/22 at 2pm

General Public: Friday 11/18/22 at 10am

If you pre-registered for presale through Ticketmaster, you should have received an email and text, notifying you if you have been verified with a personal access code.Those codes are non-transferable, so don't trust anyone trying to sell you a code.The pre-sale begins Tuesday at 3pm.