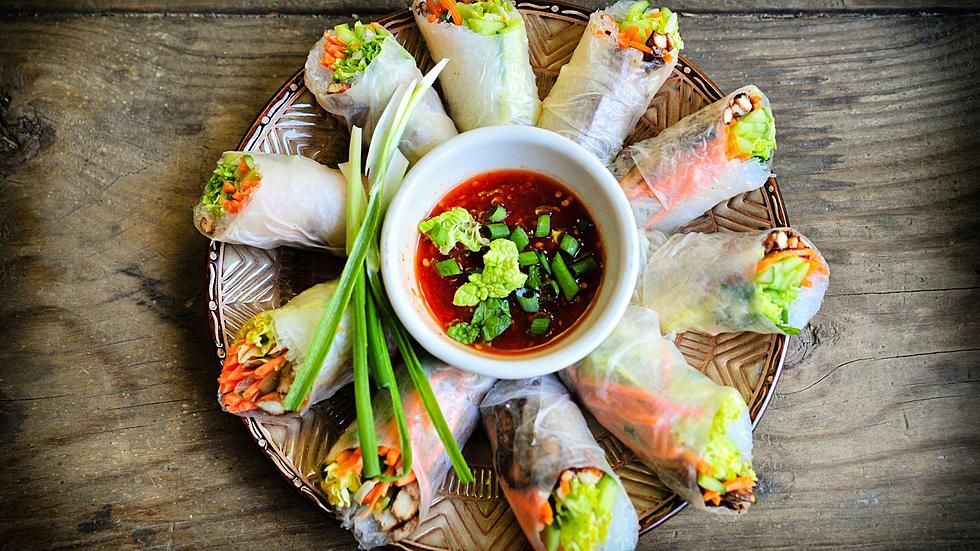 Top 10 Restaurants in the Wenatchee Valley for Spring Rolls
Photo Credit: Aly/Canva
What's for dinner? Lunch? A Snack? I mean really any time of the day... How about going with some freshly prepared spring rolls? the Shrimp ones are my absolute favorite, and the crunch of the veggies paired with the cold noodles (I had to look the name up, but just to sound cool, we are gunna act like I knew ok?) The noodles are called vermicelli. I highly recommend peanut sauce (if you don't have allergies and if the restaurants offer it or not.)  Anyway, here are the:
---
Top Restaurants in the Wenatchee Valley for Spring Rolls:
Iwa Sushi and Grill - North Wenatchee Ave right in the heart of Historic Downtown Wenatchee. Fun spot to enjoy sushi as well!
---
Mai Lee Thai - Up Grant road in East Wenatchee, right next to all things exciting, a great spot to dine in and or take out! A Valley favorite since 2007
---
Steam Panda - A favorite spot of mine to enjoy some good dumplings. Click here to read more into their poke bowls as well! 
---
Sumo Japanese Steakhouse - Enjoy a nice date night in their hibachi room as well!
---
Om Cooking - Yum, just simply put, yum!!!! Another fan fav in Wenatchee
---
The Thai Restaurant - One of my personal favorites for their Pad Thai! Yuum, extra peanut sauce please!
---
VN Pho - Their Pho is out of this world too! I'm salivating (I also don't like that word, but I need to express my love for their Pho!)! I may or may not be placing an order after I post this...
---
Cuc Tran Café - Another locally owned heritage restaurant to visit in the heart of Wenatchee WA! Check out their story and taste the history of their home cooking.
---
Wok N Roll - Poke Bowls, teriyaki chicken, sushi, the perfect lunch spot!
---
Spring Lotus - I have been a fan girl of this spot since they opened back in 2012, that's over 10 years of serving top notch Vietnamese Food. Springs rolls are a must for to go or dine in, no matter what. and their "Spring Combo" is like a spring roll in a bowl and then some! *Extra Peanut sauce here as well.
Enjoy! All the Wenatchee Valley has to offer with mouth watering food to go along with the view! 
* links about featured restaurants below:
Spring Lotus | Vietnamese | Wenatchee, WA – The BEST Vietnamese restaurant in town! (springlotusrestaurant.com) 
Menu - Sushi, Teriyaki, Hibachi - Wenatchee, WA — Iwa Sushi & Grill 
Mai Lee Thai | Authentic Thai Cuisine | Wenatchee, WA – Just another WordPress site 
Steam Panda (steampandawenatchee.com) 
Sumo Japanese Restaurant (Wenatchee), Moses Lake, WA 98837, Menu, Online Order, Take Out, Online Coupon, Discount Menu, Customer Review (sumowen.com) 
Om Cooking - Thai and Korean cuisine. (business.site) 
VN PHO | Wenatchee WA | Facebook 
Traditional Vietnamese and Pan Asian Cuisine - Cuc Tran Cafe, Wenatchee, WA. 98801 
MAIN - Wok n' Roll Asian Express (woknroll.io) 
---
5 Delicious Salad Recipes to Try this Spring
---
8 Fresh Fruit Salad Recipes to Make this Spring
---